Diaphane advantages: Easy and Intuitive CSR Reporting
The inspiration to create Diaphane was born as a result of observing non-financial reporting processes. We have seen companies struggle with CSR reporting processes because they were using standard office tools such as spreadsheets, calendars and e-mails. Files, documents and questionnaires in those companies were circulating in different versions, filled out in many conflicting ways and rarely coming back on time to the person asking for given information. All that raised frustration among data providers and leaders in CSR.
In our team, we had been solving these kinds of problems for more than ten years, and we knew it could be done better.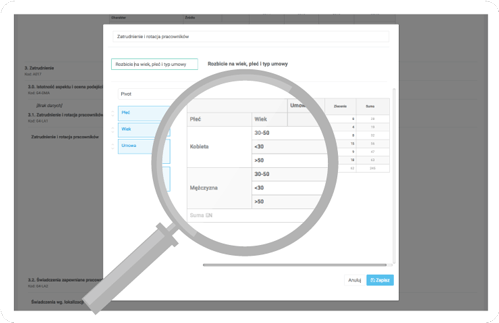 Easy to deploy
Diaphane will provide a product that will be configured out-of-the-box. We will also set up a reporting standard to get you up and running quickly. You only need to roughly map your organization's structure, select the scope of reporting and start collecting data. You do not need to know where exactly your data are – you will still be able to discover that in your first reporting cycle. Different access rights – the same great experience with just the right information presented in a user-friendly way.
Easy to modify
What would happen today if you wanted to change the scope of your reporting process or use a new version of a reporting standard? You would most likely hire consultants who would explain the new aspects or indicators. Would you have to ask them to modify your spreadsheets? Or perhaps you have a custom-built solution and you would need to hire a software development agency to refactor your reporting software? Diaphane Software works entirely differently.
A CSR Manager with relevant access rights can configure new users, modify the structure of your organization in the tool, adopt the most recent version of a reporting standard, or adapt and/or add questions to your questionnaires with an easy-to-use dashboard. You do not need to worry about upgrades to reporting standards, because – we will take care of this. Diaphane is the last CSR reporting platform you will ever need.
Intuitive
Is it important for the enterprise application to be intuitive? Certainly. It is in your best interest to make it as intuitive as possible – your stakeholders are bound to appreciate it. Users demand an intuitive, easy-to-use, enterprise application experience on every device, because that is what they are used to in their personal life. Anything less will result in a lower engagement and productivity, which will, in turn, lead to poor-quality data delivered late or not delivered at all.
Diaphane offers an unparalleled user experience, with the latest front-end and back-end technologies making it happen behind the scenes.
Our primary goal was to make our reporting solution self-explanatory
Diaphane takes into consideration the role of a given user and presents them only with directly relevant information. There are three primary roles in the application:
CSR Manager
A CSR Manager is the non-financial reporting process owner in the organization. The role of a CSR Manager is to plan the report, identify the stakeholders and the materiality of given aspects, choose forms for data collection, select/modify questions, and finally manage users and their rights. A CSR Manager can track the progress of data collection, current report completion progress and the report's final shape.
Unit Leader
A Unit Leader is the line manager responsible for a location, department, business process, or any other aspect of data you need to collect. Unit Leaders are responsible for the timely data collection and aggregation in their areas. They can either fill out forms by themselves or delegate it to other people. Once a Unit Leader gets the data, they can verify, approve, reject, or adjust them manually if needed. Depending on the size of your organization you may have multiple levels of unit leaders or get by without using this role at all.
Reporter
Everyone in the organization is a potential reporter (including the CSR Managers and Unit Leaders). A reporter's role is to fill out questionnaires delegated to them by a respective Unit Leader within the requested timeframe. We designed Diaphane in such a way as to help reporters understand questions clearly and provide answers for the relevant period in just the right format, using the right measurement units.
There are other roles supporting full CSR/ESG report lifecycle: Auditor, Stakeholder and CSR Consultant. Each of them has different access rights having the same great experience with right information presented in a user-friendly way. Our primary goal was to make our reporting solution self-explanatory. If our users needed extensive training to use the system, we would have redesigned it from scratch.