Corporate Sustainability Reporting Software
Dedicated tool for Corporate Social Responsibility management and reporting helps with all challenges faced by managers and users:
– lack of detailed, precise questions for effective data collection
– lack of flexibility in changing environment (changes in org structure, assigned users and their competencies…)
– lack of control of the progress
– high risk of mistakes in data aggregation phase
You can forget about all of that using our platform which allows you to focus on what's the most important.
Rest is up to us.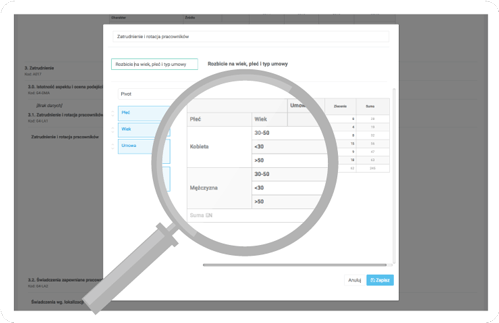 Easy to start
Our platform is available instantly. As delivered from the cloud you don't need to worry about installation, implementation in your organization. Everything what you need to take care about is to create your organizational structure, set up the users and start to collect the data. Our platform provides you:
Ready to use GRI Standards indicators and forms
Tool to create your own indicators
Clear, simple questions with additional help and clarification
Various roles for users with different responsibilities
Set of competencies allow you to differentiate user's access within same organizational unit.
Modification simplicity
Do you need to change the scope of reporting during the process?
Do you need to assign new user or new organizational unit?
Change set of competencies for the user?
It is not a problem…
Diaphane Software allows you to modify organizational structure, user's asignments or their competencies at any time.
All changes you make have immediate effect.
Our goal was to make user's happy while delivering precise information
Intuitiveness
You don't need to worry about long learning cycle. We have created our platform with intuitiveness in mind.
Users don't need to think "how to do something". They just do it.
They can focus on delivering reliable information instead of "fighting" with the system.
Intuitiveness reduces requirement of training and practice to few minutes.
Log in. Open the questionnaire. Answer the questions. Send.
That's all.
Diaphane allows you to assign the users to the different roles – thanks to that they have rights in the system as they exactly need.
Lack of dedicated corporate sustainability reporting software makes the whole process very hard to control and exposes the final results for human errors at data aggregation phase.
Main roles in the system are:
CSR Manager
Owner and project manager. It has full access to the platform and all it's functions.
Defines list of important indicators and initiate the whole process
Creates and maintain the organizational structure and user's assignments
Monitors progress of the pace of the process
Creates the reports from collected data and exports them
Unit Leader
Responsible for part of the organization he/she was assigned as leader.
Creates sub-units to his/her part of the organization and assigns the users
Grants/revokes competencies to the users
Verifies the data collected in his/her part of the organization
Reporter
Delivers information required by answering questions using hints to each of them
May attach source documentation to each answer as a comment, link or document.
Can access to the questionnaires within organizational unit he/she is assigned to as long as his/her competencies are sufficient
Simplified view of the system allows to focus on delivering precise information