In July this year AmRest published its first non-financial report: Sustainability Report 2017.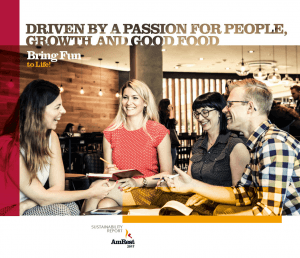 The publication shows not only various types of influence of AmRest's operations on 16 markets, but also presents the impact on the environment and stakeholders throughout 25 years of the company history.
The selection of GRI Standards, supplemented with the client's own indicators, allowed to present a comprehensive story, among others about how the company affects the environment – social and environmental.
We are happy to be involved in the reporting process of a client who understands the importance of non-financial data. The 3-year cooperation agreement was concluded following the decision to collect data in such a way that it could be used in the management and improvement of efficiency and in increasing the positive impact on the broadly understood environment.
"We want to thank AmRest Representatives for the trust they have placed in Diaphane. And also their valuable feedback that allows us to improve the tool and make it more user-friendly.

I hope that the value of data collected this year will grow with each subsequent one, and it will help our client not only in the publication of reports, but above all in managing the implementation of the company's strategy"

– says Michał Kułakowski, Chief Technical Officer at Diaphane
Statement on non-financial information
Before the report was released (available in two language versions), the company prepared a Statement on non-financial information of the AmRest Holdings SE Capital Group for 2017. The study was prepared in accordance with the guidelines included in the Accounting Act and is a separate part of the "Consolidated Management Board's Report for the year 2017".
Case study
For AmRest, the hardest part, which is recognizing and reaching data owners and setting the whole process to run smoothly, is already behind them. Thanks to the simultaneous building of awareness of its importance for the whole organization, the commitment in the next cycle can be as great as it was during the first steps.
Check more details of our cooperation with AmRest – case study "Software implementation and data collection with Diaphane" (can be downloaded as a PDF prepared for printing) contains the information on:
how the tool implementation process went,
how much time data collection took,
what the conclusions from the first year of reporting with the use of our tool are.